Update : 2017-01-10
Japanese Foundation for Cancer Research (JFCR) was established in 1908 as the first institute in Japan specialized in cancer. Since the establishment of the Cancer Institute and its affiliated hospital, JFCR has been leading the researches and treatments of cancer in Japan through the activities integrating basic and clinical researches. You may find many references such as "the first in Japan..." or "the largest number in Japan…" in the introduction of JFCR. This proves our achievements in the field of cancer research and treatment in our long history.
Especially, remarkable results are made in research field in recent years, and JFCR is appreciated as one of the world top class institutes in bioscience in the article run by US magazine "The Science" in its recent issue featuring "Science in Japan."
At the affiliated hospital, JFCR has been making achievements in treatments of cancer and its related diseases with highly efficient medical staffs and leading-edge medical equipments. At the same time, the Cancer Institute Hospital actively works on developing new method of treatments by clinical research cooperating closely with Cancer Institute.
In January 2001, JFCR had the honor of receiving His Imperial Highness Prince Hitachi, who had been engaged in research of animal cancer for long time as a visiting professor, as Honorary President. JFCR is on at its new stage now.
Learn more about JFCR
JFCR Brochure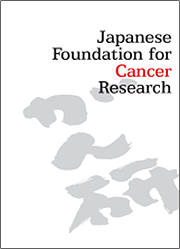 Fact Sheet