Research introduction and trait
We are aiming to build the base that can strongly promote the development cycle of the molecular-targeted drugs, mainly by using the techniques of genome science. Currently, gene expression profiling with microarray is used as the basic technology. Using a large amount of acquired data of gene expression, we are now trying to identify a new target molecule for diagnosis and treatment. We are also trying to develop a bioinformatics method for finding biomarkers and a new system for measuring mRNA expression in situ. We have two projects; "microenvironment-oriented, molecular-targeted therapy" as a basic research and "diagnosis of drug responsiveness in molecular-targeted therapy" as a translational research.
Projects
Basic research for microenvironment-oriented, molecular-targeted therapy
Cancer cells in solid tumors are often surrounded by the stressful microenvironment, such as hypoxia (low oxygen) and low glucose, due to insufficient blood supply. The stressful microenvironment is thought to be a major cause of tumor progression and chemotherapy resistance. However, such stress conditions are not observed in normal tissue, and therefore, can be exploited for selective killing of tumor cells. Actually, the attempt of exploiting the unique feature of tumor microenvironment has come to be done actively in the cancer chemotherapy field. For example, success of such approaches has been seen in developments of anti-angiogenesis therapeutics that inhibit blood vessel formations in tumors.
To develop a new approach to controlling solid tumors, our research activities have focused on the adaptive response of cancer cells to the microenvironmental stress conditions. Especially, we are interested in the unfolded protein response (UPR) that is activated as a result of accumulation of unfolded proteins in the endoplasmic reticulum. The UPR plays an important role in cell survival under such conditions. Importantly, activation of the UPR has been seen in a variety of cancer cell lines, solid tumors, and biopsy specimens from human cancers. We are investigating the regulation mechanisms of the UPR with molecular and cellular techniques including gene expression profiling. We are also studying UPR inhibitors and their mechanisms of action to develop a new class of molecular cancer therapeutics targeting the UPR.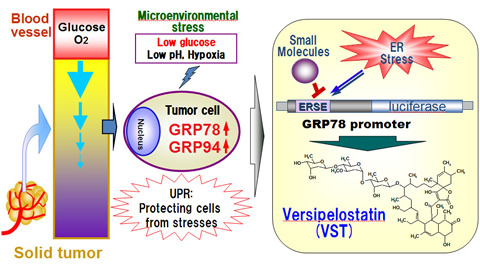 The UPR as a Target
Tumor microenvironment can activate the unfolded protein response (UPR) in cancer cells, resulting in induction of endoplasmic reticulum (ER) -resident molecular chaperons GRP78 and GRP94. Versipelostatin (VST) has been identified as an antitumor agent that inhibits the UPR.

Translational research for diagnosis of drug responsiveness in molecular-targeted therapy
The molecular-targeted therapy, that controls the function of key molecules in tumor growth, is actively studied all over the world. Some of the molecular-targeted drugs have already been introduced into the clinic and have received much attention because of the effectiveness and the relatively weak side effects. Recently, it has been desired to develop a prediction system of drug responsiveness in cancer patients, in order to use a proper molecular-targeted drug. In these situations, the gene expression analysis with the microarray technologies has been revealed to be very useful for the prediction of clinical drug response.
In this project, using a microarray-based gene expression analysis system, we conduct the gene expression profiling of tumor specimens obtained in parallel with clinical trials of investigational new drugs, especially molecular-targeted drugs. Based on the gene expression profiling, we aim to create a prediction system of clinical drug response and also to identify new molecular targets. This research project is promoted in cooperation with the genome center of our institute and a lot of clinical research laboratories in Japan. Through these researches, we hope to contribute to the achievement of the personalized medicine in cancer therapy.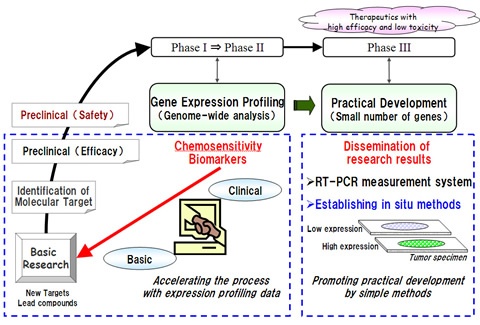 Cancer Drug Development with Gene Expression Profiling
To accelerate development of personalized medicine, we identify biomarkers predicting clinical drug response with gene expression profiling technique. Using the biomarkers, we further attempt to develop diagnostic systems and to develop new molecular-targeted therapeutics.