Projects
Prediction of adverse effect by single nucleotide polymorphism analysis
To predict effects and/or probability of adverse effects of chemotherapeutic agents, we have established high throughput SNP typing system. Using 2,727 SNPs over 298 drug metabolizing genes, we have identified SNPs on two loci associated with granulocytopenia on Paclitaxel treatment in breast cancer patients. By using those SNPs, presence or absence of granulocytopenia by Paclitaxel treatment can be predicted statistically precisely. Considering genotype frequency of those SNPs in Japanese population, our result will benefit more than 50% of Japanese patient. That approach will contribute to realization of so called order made medicine which enables to provide personalized medicine in near future

Characterization of individual cancer by gene expression profile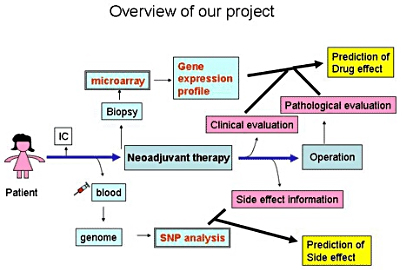 To identify genetic markers that predict whether patients are likely to be cured by a chemotherapy regimen commonly given before surgery in patients with cancer, we investigated the gene expression profile using microarray and compared between pathologic response and residual disease group. In patient with breast cancer, we found a set of key gene that the marker predicted, whether paclitaxel would be response or not. In addition, analyzing gene expression profile that predicts response after epirubicine and taxotare treatment is undertaken. Our findings may provide a strategy to select patients who would benefit from neoadjuvant therapy. Also, the identification of gene expression profiles of various cancers is currently underway to identify new diagnostic markers and therapeutic targets.

Developments and application of bioinformatical methods for cancer research and construction of lintegrated cancer databases for cancer research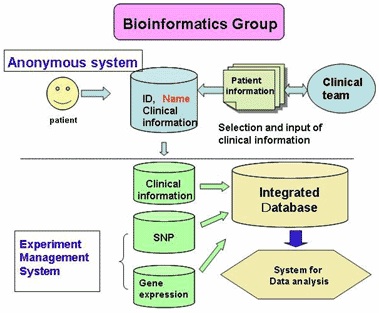 The Bioinformatics group is constructing an integrated cancer genome database for clinical information, results of typing single nucleotide polymorphism (SNP), and gene expression data by micro-array for cancer patients to prepare an intellectual foundation of efficient identification of important genes related to treatment sensitivity or adverse effects of anticancer drugs. Furthermore, using this database, we are developing statistical methodologies to identify candidate genes and are analyzing these data. We have developed an automatic statistical judgment system of SNP typing from Invader assay in cooperative work with the Institute Statistical Mathematics and applied for its patent.