Projects
Hematopathology
We examine all patients with suspected lymphoma who visit the Cancer Institute Hospital (which treats the largest number of lymphoma patients per year in Japan). Patients are diagnosed on the basis of 4 fundamental data: morphology, immunophenotype, gene and chromosomal analyses, and clinical information; this is called Integrated Diagnosis.
Lymphomatoid gastropathy is a novel disease identified thorough these steady diagnostic efforts. In addition, we contribute to many clinical studies by performing central pathology reviews. We have recently identified a novel fusion gene, SQSTM1-ALK, in a case of B-cell lymphoma (related to Project Fusion). This was also achieved thorough meticulous analyses of a clinical case.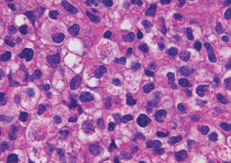 Histopathology of lymphomatoid gastropathy
According to conventional histopathological criteria, a lesion of lymphomatoid gastropathy is diagnosed as lymphoma, especially extranodal NK/T-cell lymphoma. However, considering its clinical characteristics, lymphomatoid gastropathy is recognized as a benign process because it spontaneously regresses without treatment. Therefore, the concept of lymphomatoid gastropathy should be well recognized to prevent overdiagnosis and overtreatment. Cytoplasmic granules are a cytomorphological characteristic of lymphomatoid gastropathy.