For Patients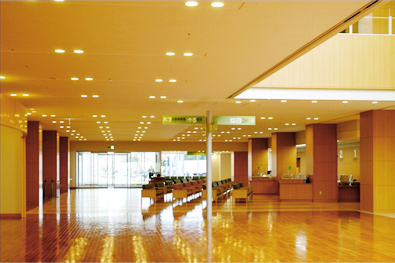 Update : 2017-09-18
Required Items for First Visit| Hospital Rules and Manner| Procedures for New Patients| Things to be discussed at the first consultation
Required Items for First Visit
Japanese National Health Insurance card (if you have)
You will be financially responsible for all medical expenses without presenting a valid/current card.
If you are a recipient of benefits (for specific diseases, single parent, physical disability, etc.), please bring the valid/current certificate to your appointment.

If your last visit was more than 30 days ago, we will check your health insurance card and other current certificates again. If there are/will be any changes made to your insurance card or other certificates, please notify us at the Insurance Check counter, counter No.3, located on the first floor before your appointment/exams.
Photo ID – Residence Card or Passport
(If you do not have Japanese National Health Insurance card)
Additional medical information that you have not submitted yet
If there is any additional medical information, please bring with you.
Please refer to Required items for application.
(All medical information must be translated into either Japanese or English.)
Medicines that you are currently prescribed or are taking
Patients and family members visiting Japan for treatment - Medications to bring
Consent form for second opinion consultation
(for a person who visits hospital on behalf of the patient)
Consent form is required to be signed if a patient appoints someone who is not a family member of a patient to have a second opinion consultation on behalf of the patient. You will receive the form when your appointment is fixed.
Acceptable form of payment
Please refer to Billing and Insurance

Hospital Rules and Manner
Please follow the hospital rules and behave courteously in the hospital. We greatly appreciate your cooperation.
Prohibited behaviour
Talking over the cell phone at non-designated areas
Drinking alcohol (including non-alcohol beer)
Smoking (including electric cigarettes and no-smoke tobacco)
Wearing strong perfume
Taking pictures or filming
Violent behavior
Verbal abuse including use of languages that are discriminatory, insulting or offending public order and morality.
Use of cell phones in the hospital
Please put your cell phones on either silent or vibrate. The use of cell phones is restricted; you can talk on your cell phone only in the designated areas. Please be respectful of other patients around you when using cell phones.

You can make a phone call in the designated cell phone area:
Payphone area
1st floor of the new wing
Inside the private rooms
Courtyard on 5th floor
Terrace on 12th floor

Procedures for new patients
Information desk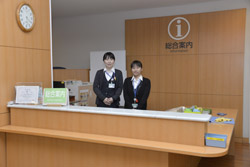 You will see the Information Desk on your right hand side when entering the hospital from the front entrance. If you have an appointment with an International Services staff or have any questions, please inform the receptionist at the Information Desk.
Reception for First Visit, Counter No.1 on the first floor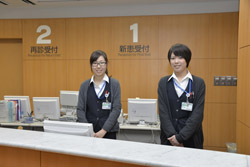 Take a number ticket from the ticket machine and wait for your number to be called.
If you have brought any additional medical information (e.g., CD-ROM, films) with you, please turn them in at the counter.
➡Required items for first visit

Present your ID
Fill out a consent form and a questionnaire
You will be given a pager, a patient ID card, an appointment slip, etc.
Reception of the designated department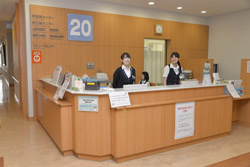 Turn in all the materials that have been given/returned to you at the Reception counter for First Visit (e.g., a patient ID card, a completed questionnaire, additional medical information).
Waiting room of the designated department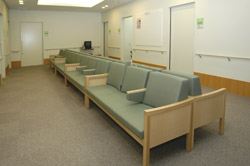 When you are paged to enter the inside waiting area, please go ahead and wait there.
Consultation room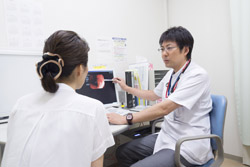 When you are paged, to go into the assigned consultation room, you can enter the consultation room to meet with the physician.

Things to be discussed at the first consultation
During your consultation, you can talk to the physician about your cancer treatment history (if you are receiving), possible treatment options, and current health condition, showing the medical information that you have brought.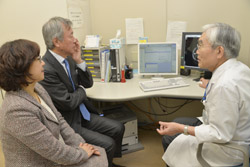 Please inform your physician of your past medical history, chronic diseases, and any other questions or concerns with your current health condition. The physician will ask you about complications and your general state of health in order to develop a treatment plan that is most suitable for your condition.

If you have any questions or concerns in regards to your treatment options or restriction, please consult with your physician.

➡ Female patients and patients who wish to have children in the future
➡ Patients with certain restrictions and/ or other special requests

After the first consultation, the physician may arrange your exams. If you have questions regarding those exam, please ask your physician during the consultation. If you have preferred exam dates because you stay in Japan only for a limited period of time, please notify your physician of your situation. However, please understand we cannot always schedule your exams on your requested date.

Some international patients wish to be admitted and begin their treatment immediately. However, first and foremost we must thoroughly examine the tumor characteristics, the metastatic status and, accordingly, the cancer stage to choose the most appropriate treatment option for you.
Please inform your physician if there is a specific exam you want to take. However, please note that we do not provide any exam that is not necessary for developing your treatment plan.

In order to get an accurate diagnosis and choose the most effective treatment, you are encouraged to ask your physician a lot of questions regarding available treatment options at our hospital, possible treatment plans and duration.
If your physician considers the submitted medical information is not enough to make an accurate diagnosis, you will be asked to re-take some exams. Our hospital is by appointment only. However, your appointment may be delayed if, for example, there are other patients whose condition requires immediate medical attention. We recommend that on the day of your scheduled appointment, you are flexible, in the case that your scheduled time is changed or delayed.
Originally suggested treatment plans can be modified after the exam results come out.

Patient rights
You have a right to ask for clarification of things you do not understand. Please ask your medical staffs to provide explanations and information to you until you can understand. We highly respect your rights as a patient, and your question will not affect the quality of care you receive.